Case study
Digitalising the UKSR
Overview of the project and the commercial benefits delivered
Image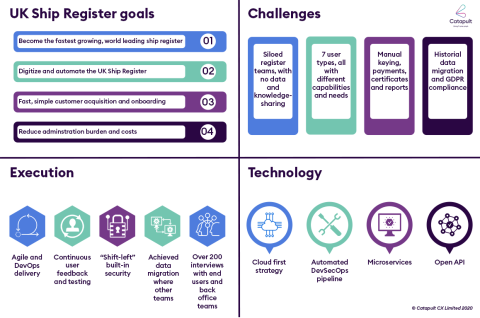 Image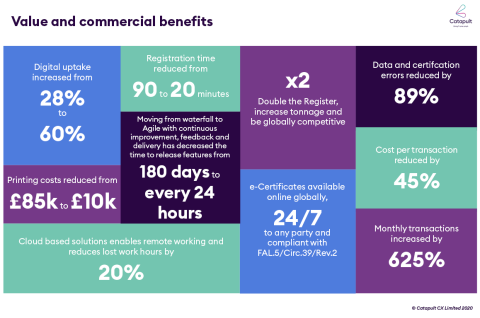 As part of the Maritime Coastguard Agency's goal to become the best performing and fastest growing international flag, they decided to digitalise the UK Ship Register to reduce internal administration and enhance the Customer Experience (CX). 
Catapult took an agile approach supported by Atlassian tools, to deliver a cloud first, microservices solution that enables 24/7, self-service vessel registration and management. The solution has hugely decreased time to registration and certification, eliminated manual errors and associated costs and enhanced the CX for all users. It is also currently a finalist in both the UK IT and Digital Technology Leaders awards, with final judging later this year.
Image

The situation
The Maritime Coastguard Agency's goal is to become the best performing and fastest-growing international flag; to achieve this goal required digitalising the Register for fast on-boarding, self-service registration and management, and reduced admin and costs. Challenges included a failed data migration; siloed teams; error prone manual keying, payments, certification and reporting.  The solution had to address all user types' pain points including dealing with paper forms, inaccurate data and long processing times which created delays to sailing and ship owners incurring penalties. 
The solution
From 200+ user interviews we determined a joined up customer journey, which met the usability and accessibility standards required. The service needed to ensure data privacy and align to international maritime laws, while being available globally 24x7.
We optimised the overall registration process, removing the requirement to complete paper forms and send these to the UKSR. Data quality was improved by removing rekeying and validating data in the service and providing users with the ability to check their answers before submission.
To meet the requirement for a globally available service we adopted a cloud native architecture for streamlined data management and continuous backup and created a scalable Microservices platform with Site Reliability Engineering, Observability and OpenAPI3. This allowed rapid system changes and enabled continuous service improvement. 
Our successful data migration strategy comprised an automated ETL process to extract and transform and upload it to the register. We incorporated reusable services like GOV.UK Pay and Notify for standardisation and cost savings.  Agile ways of working, a DevSecOps pipeline and continuous feedback and testing enabled continuous delivery. A new toolset including Jira and Confluence, optimised collaboration and productivity. The service was successfully assessed in Alpha and public Beta.
The results
Digitalising these services reduced internal administration and enhanced the Customer Experience (CX). The processing time for a registration application was reduced from over an hour per registration to 17 minutes for complex cases, and 8 minutes for simple registrations. Registrars generate and send digital CoR (Certificates of Registration) in seconds via GOV.UK Notify, previously the time taken to create a CoR was 15 minutes. The issuing of digital certificates compliant with IMO regulations enabled the UKSR to compete with other flag state registries. The service was highly commended by both the UK IT Industry Awards 2020 and Computing Digital Technology Leaders Awards 2020 for Best Public Sector IT Project.